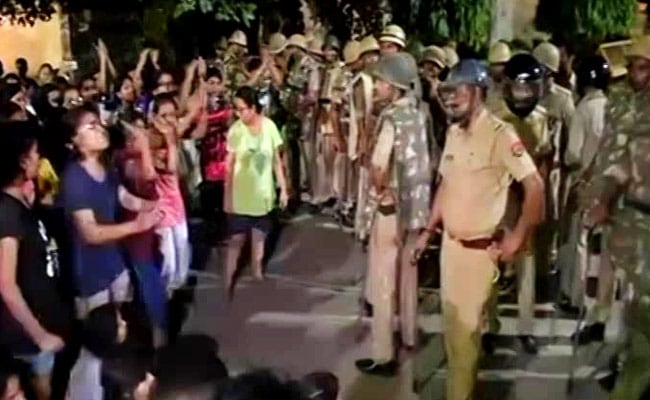 It has been reported that the protesting students tried to enter the residence of the Vice Chancellor and when the deployed security forces tried to stop them, students became violent; it is then when the security forces used lathi-charged to disperse them.
Another march was taken out by Chhatra Yuva Sangharsh Samiti, the Aam Aadmi Party's student wing, at the Delhi University which saw more than 100 students take part, a statement from the group said. But this is India.
In the aftermath of the violence, the district administration has declared holidays from today till October 2 in all colleges and universities in Varanasi. This lathi-charge was done against a student-led protest that was being conducted on campus over a sexual harassment case that occurred on-campus.
BHU's environment is laced with misogyny. Vice-Chancellor Girish Chandra Tripathi agrees to speak with the representatives of the students in his chamber, but the protestors refuse in the light of earlier instances where similar movements were neutralised by threat and suspension of leaders.
Violence had last week erupted in the Banaras Hindu University (BHU) campus after some female students were allegedly molested by outsiders.
The Varanasi Police Commissioner also blamed the Lanka Police for lathicharge and not acting on the complaint of the victim on September 21. Students of BHU, as well as other universities, professors, civil society members, social workers and other citizens of Banaras, attended the march. "This is spread by just a few students", he told the Indian Express. "We get a male friend to come along every time we go to the market. We have formed a committee headed by a high court judge to inquire into the incident".
The BHU chief proctor's internal four-page report has also suggested that the assault on a girl that sparked the protests was an instance of "eve-teasing", something that was also corroborated by the V-C. So much for constructive criticism, eh?
"My only prayer is that such a solution comes up that ensures such incidents do not happen in future", he added. Ask them if they have any fear.
"Lack of tanks inside our campuses is the biggest cause of these protests in the first place". We are doing our best for the students.
Of course, it has to be the Opposition that is plotting, there are no real institutional problems.
Another student who did not want to be named said: "The problem of sexual harassment is very common here".
"This episode shows why GSCASH is necessary in all institutes".
"This was not a case of molestation, this was a simple case of eve teasing that was deliberately staged a day before the Prime Minister's visit", Tripathi said.