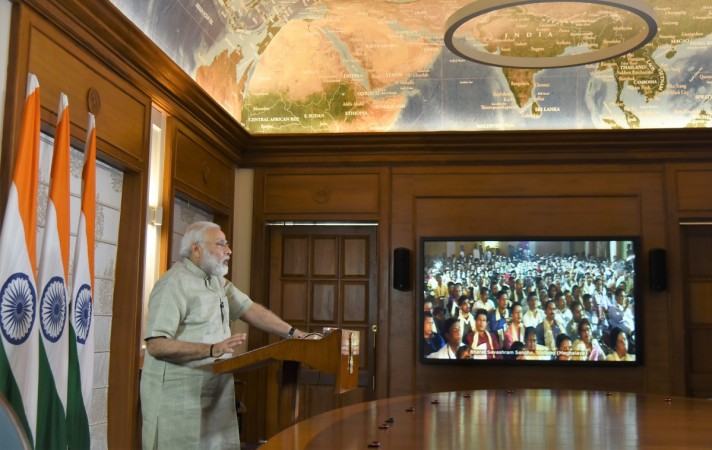 "Will be in Sri Lanka for a two day visit during which I will join Vesak Day celebrations & other programmes", tweeted PM Modi.
Modi's superficial agenda of Sri Lanka was apolitical as "officially" he went there mainly to participate International Vesak Day function as a chief guest, but unofficially his visit was much more important diplomatically.
Modi said Sinhala and Tamil communities in Sri Lanka should strengthen unity and harmony as he assured India's full support to the steps taken by Colombo to improve the living conditions of minority Tamils in the country.
Prime Minister Ranil Wickremesinghe with Ministers Gayantha Karunathilake, Malik Samarawickrama and Nimal Siripala De Silva, and Deputy Minister Harsha De Silva were at the BIA to send off the Indian Premier.
He had toured Sri Lanka in March 2015.
According to TNA sources, Prime Minister Modi commended the Tamil party for its role in the current political context in the island nation when constitutional reform process is being envisaged. China unnerved India by building a sea port on Sri Lanka's southern tip, a part of Beijing's so called string-of-pearls plan for a line of ports stretching from its waters all the way to the Persian Gulf.
"Proud to host Vesak Day celebrations in Colombo".
NewsGram brings to you top news around the world today. Prime Minister Modi also soothed the emotions of Indian origin Sri Lankan Tamils through what has been described as his "medical diplomacy" through the inauguration of the Dickoya Glengairan super-specialty hospital built with Indian assistance of Rs 150 crores.
He also announced a series of sops for the Sri Lankans like setting up of vocational training centres, ten engineering training centres and labs to impart suitable skills, computer and science labs in plantation schools. He later worshipped at the temple of Buddha's tooth relic in the central town of Kandy.
This will be Modi's second state visit to the island nation in two years. The Prime Minister arrived in Colombo on Thursday evening for a two-day visit. Soon after his arrival, he visited one of Sri Lanka's oldest Buddhist temples, the Seema Malaka Temple and took part in the traditional lamp-lighting ceremony. Had Rajapaksa been in power then instead of Modi Chinese President or Prime Minister would have been given privilege to open International Vesak Day function.