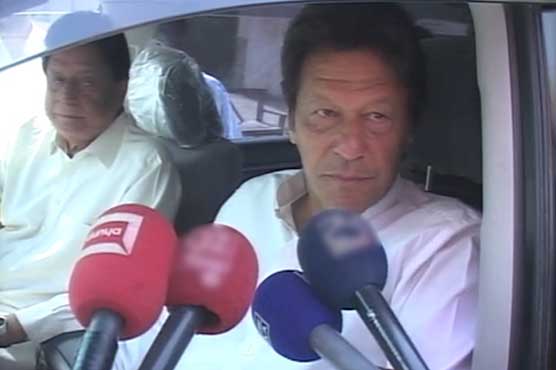 The PML-N high-ups have chose to send a legal notice to Pakistan Tehreek-i-Insaf (PTI) chairman Imran Khan under the defamation law over his allegations that he was offered Rs10 billion for keeping silent on the Panama Leaks case.
In a high-level consultative meeting on Thursday over the Supreme Court's decision, legal experts advised the premier to serve a defamation notice to the PTI chairman, however, it was also decided in the meeting that any final decision in this regard is the prerogative of Prime Minister. "I know the it is true but he should not have said that without the consent of the person who made the offer", Asad Umar said when asked about the claim in an ARY News show.
Addressing a gathering in Peshawar's Shaukat Khanum Hospital on Tuesday, Imran Khan claimed that he was offered Rs10 billion to stay silent over the Panamagate issue.
"Imran Khan has made a record of lying", said Sharif at an event in Lahore.
The PTI chief added that the man met him about two weeks ago and informed him that he was given the task.
"This Rs 10 billion was just a starting point; if I had showed some flexibility, they could have offered me more than that", he was quoted as saying.
"Slamming Khan for making the allegation, Sharif's daughter Maryam tweeted, "'Shahbaz Sharif's close aide offered me 10 billion.
Imran Khan reaffirmed that all five judges declared PM Nawaz Sharif a liar, adding that it was punishable to lie before a judge in the United Kingdom.
The minister said that the Supreme Court had rejected the petitions of all the petitioners, and their prays had also not been included in the questions of Joint Investigation Team (JIT). "No, Hamza's friend made an offer to my friend in Dubai.' I fear for this man's Hereafter!"